Before I start, I have a request. If you find any idiot saying or Writing, It's a copy paste job from anywhere else, simply Slap him on face even before asking me. Whatever I am going to write here, is from my own experience but as it is a standard activity/ equipment, you may find lot more similar posts in internet.
CO2 Cylinder:
The container of CO2 Gas. There are many variant of this, like Iron, Aluminum, Steel etc. but the most popular and cost effective is the iron one. Normally we use fire Extinguisher cylinder for Aquarium purpose. Before you go ahead, remember, the cylinders which used to hold liquid CO2 ONLY can be used not those used to hold Dry/Powder CO2.
Here is the Iron CO2 cylinder I am using.
Now these cylinders can come with 2 types of top valve. One is same like a knob installed top of fire extinguisher and another one specifically used for industrial use. to use the top valve used for industrial use, you need a key to operate it. You have to buy that extra along with the cylinder.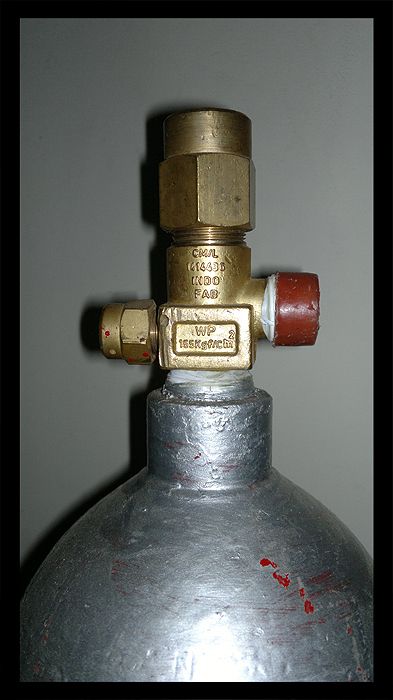 Safety measure:
Most of the Fire Extinguisher cylinders are being used for years with a very bad maintenance. So while buying, ask the seller to do a pressure test. All the iron cylinder having an warranty period of 15 years. While doing the pressure check up, they will test the remaining thickness of the wall. If the cylinder is too old, the inner wall eroded out badly and unevenly. Using it inside home for aquarium purpose is bloody dangerous. The test will cost you some money, but better to be safe than sorry.
WARNING:: Never ever fiddle with the knob of a full cylinder when it is not connected to a regulator properly. have you ever blew a balloon and let it go without making the knot?? The same effect you will see, the only difference will be a air born high velocity 14KG iron lump.
Regulator:
The next most important thing in CO2 setup which needs a complete safety and quality. Cause it drives a huge pressure coming from cylinder.
There are mainly 2 types of regulators, Dual stage and Single stage. I will not go into technicality. But Dual Stage is much safe and robust than a single gauge regulator. But honestly, for aquarium use, single stage regulator is more than enough.
Now we will talk about 2 types of available regulator.
One what we use most of the time is industrial standard regulators. It comes with 2 gauges. One indicates the cylinder pressure and another to indicate the output pressure. In market you will find many Chinese name regulators along with 2 India made regulator. Most famous and dependable Indian brands are ESAB and Eagle. You can use any of them.
Here goes a picture of a Chinese regulator,
Have to find out the picture of my current ESAB to post.
Chinese regulators are good for 2 years if you are lucky. Or else, it will go kaput within 1 year. The internal valve quality of these regulators are not good. Otherhand ESAB/ Eagle are established name in industry and has reputation making very good quality regulators. ESAB regulator ONLY will cost you around 1600/- Max.
You can find another type of regulator, available in Aquarium shops from some aquarium brands comes with a Single gauge. it comes with built in Needle Valve. But I can't vouch for any of their quality as I never used them for a long time (Means currently I borrowed one as I sent my ESAB for repair).
If you are using a double gauge regulator, open the cylinder knob fully. To pass the gas out of the regulator, you have to tighten the regulator knob. Keep it tightening till the time it cross the 40 mark. You may have to tweak the output pressure for some diffuser if required.
Washer and Teflon tape:
2 very small but very important component for a pressurized setup. They make sure, their is no leakage between the regulator and the cylinder. Before you fit the regulator, slip one washer at it's end. Use a good quality synthetic washer (3-5/- each) for long run.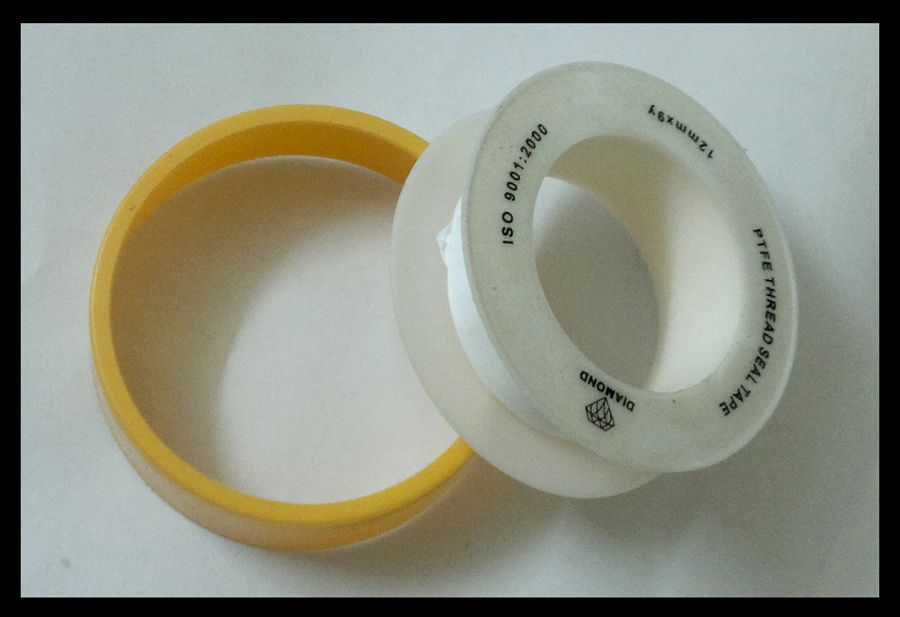 Teflon tape is a very fine tape used as all purpose leak fix. It is used to avoid leak between joints of water pipes, Gas pipes etc etc. One roll will cost you 10/-. Use some on the cylinder thread before you attach the regulator.
Solenoid Valve:
If you don't want to supply CO2 for 24x7 then Solenoid comes into picture. It's a Power driven valve which cut off the CO2 flow when switched off. Not mandatory but if you want, you can use it to shut off the CO2 at night if required. In Market there are couple of brands but all are same quality wise. Price varied from 800 - 1000/- I used to have solenoid attached to my regulators, but I found I am keeping it ON for 24x7. So I have removed it recently.
The small transparent Box in the below fitment is a solenoid valve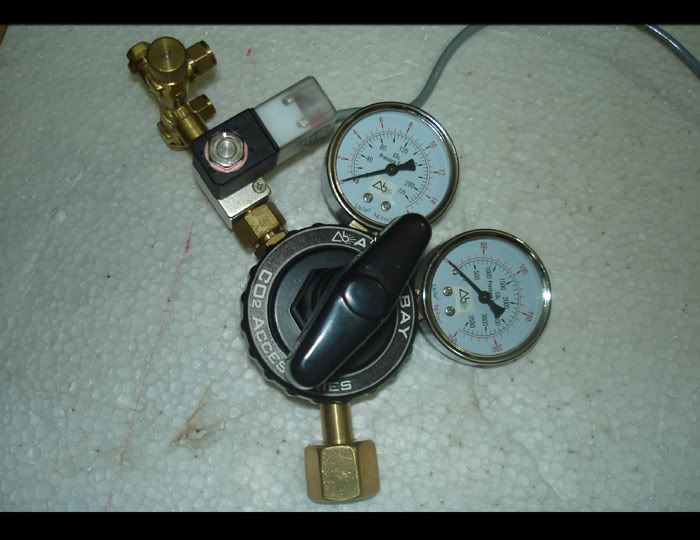 To be continued...